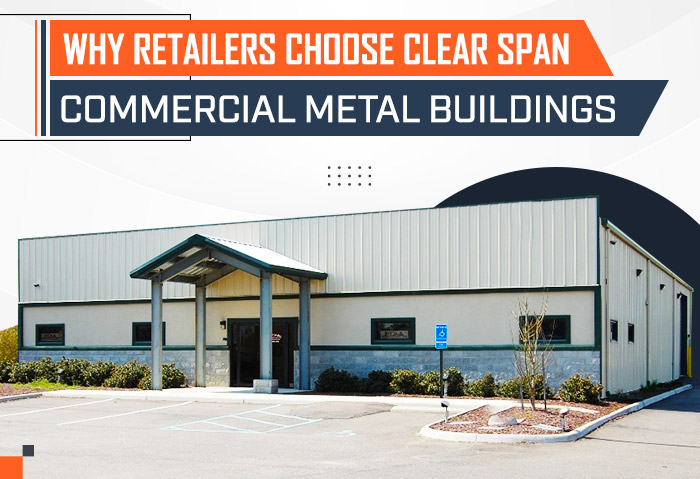 Why Retailers Choose Clear Span Commercial Metal Buildings
Clear Span Metal Buildings
Business owners of all types enjoy the benefits of clear span commercial buildings. These buildings comprise the backbone of modern commercial infrastructure, from small retail stores to enormous distribution centers and everything in between.
And if you're a business owner looking for a tried-and-true solution for your company's needs, these large metal buildings might just be up your alley.
In this blog, we'll dive deeper into clear span structures and show why they offer a perfect combination of unparalleled strength and square footage.
The Benefits of Clear Span Commercial Metal Buildings
No matter the industry, clear span buildings provide many advantages that make them a fantastic investment. Let's take a quick look at what they bring to the table:
1. Flexible Design
One of the most significant advantages of clear span metal buildings is their flexibility when it comes to design. These buildings can be customized to fit the specific needs of their business or industry. Since there are no interior columns, companies can design their space as they see fit, whether creating an open floor plan or partitioning the area into different sections.
2. Endless Versatility
Clear span metal buildings are incredibly versatile, making them ideal for a wide range of applications. Whether it's a warehouse, factory, or storage facility, these buildings can be used for anything. They can also be adapted to meet the changing needs of a business, which is especially important in constantly evolving industries.
3. Spacious Interior
Another major benefit of clear span metal buildings is their spacious interior. With no support columns or interior walls to get in the way, businesses have more usable space to work with. This is especially important for industries requiring oversized storage or equipment.
4. Minimal Maintenance Needs
Clear span metal buildings are designed to be low-maintenance, a major advantage for businesses. Unlike traditional facilities, they do not require regular painting, repairs, or other maintenance tasks. This can save companies a lot of money and time in the long run.
5. Multipurpose Uses
Clear span metal buildings can be used for a variety of purposes, which is another major benefit. They are ideal for businesses that need a flexible and adaptable space that can be used for different applications. For example, a company might use the building as a warehouse for one year, then convert it into a factory or office space the following year.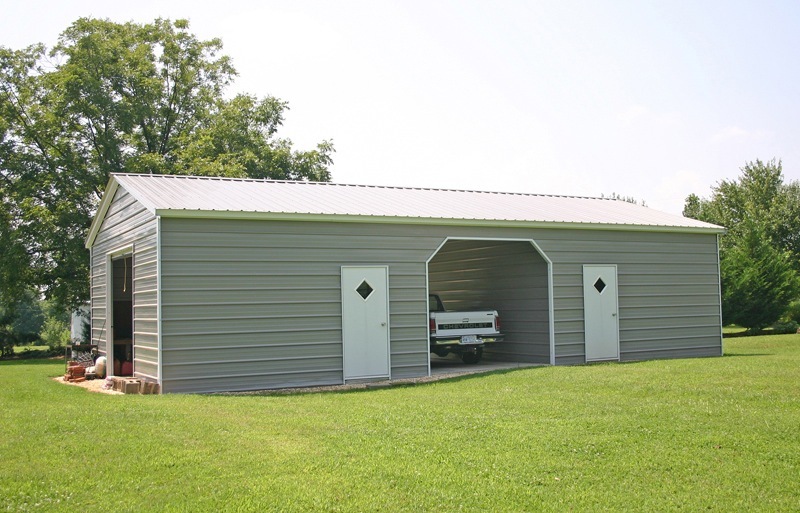 Industries That Use Clear Span Metal Buildings
Make no mistake; it's not only industrial facilities that utilize the power of clear span engineering. Many industries use these structures due to their strength, versatility, and affordability. Let's take a quick look at just a few ways these buildings are used:
1. Warehouses
Warehouses are one of the most common applications of clear span metal buildings. These industrial metal buildings provide ample space for storage and easy movement of goods, making them ideal for businesses dealing with large amounts of inventory. The spacious interior of these large metal buildings also allows for efficient organization and management of the warehouse, leading to increased productivity and reduced operational costs.
2. Factories & Machining Plants
Factories and machining plants require large, open spaces to house heavy equipment and machinery. Clear span metal buildings provide the necessary space and can be customized to accommodate the industry's specific needs.
3. Garages, Barns & Sheds
Clear span metal buildings are also ideal for garages, barns, and sheds. These buildings provide ample space for storing vehicles, equipment, and tools, protecting them from the elements. They can also be used as workshops, offering a functional and flexible space for DIY projects or professional services.
4. Greenhouses
Greenhouses require ample natural light and an open, uninterrupted space for plants to grow. Clear span metal buildings offer just that, making them an ideal choice for greenhouse applications. The spacious interior of these buildings allows for efficient organization and movement of plants and equipment, leading to increased productivity and growth.
5. Gyms, Arenas, Churches & Recreational Facilities
Clear span metal buildings are versatile enough to be used for recreational purposes, such as gyms, arenas, churches, and recreational facilities.
Build Stronger with Safeway Steel!
Whether you're opening a retail outlet or designing a large industrial facility, Safeway Steel is your expert in all things steel. We have a comprehensive lineup of metal buildings and endless customization options that put you in control of the look, feel, and function of your structure.
These buildings are backed by leading industry warranties, ensuring your structure performs well in any environment.
So, if you're looking for a cost-effective way to upgrade your business infrastructure, let Safeway Steel help! Call us today at +1 (800) 818-2245 and let our team of building experts help you design the commercial building you've been looking for. We'll be happy to help you create and customize a clear span building that suits your unique needs.