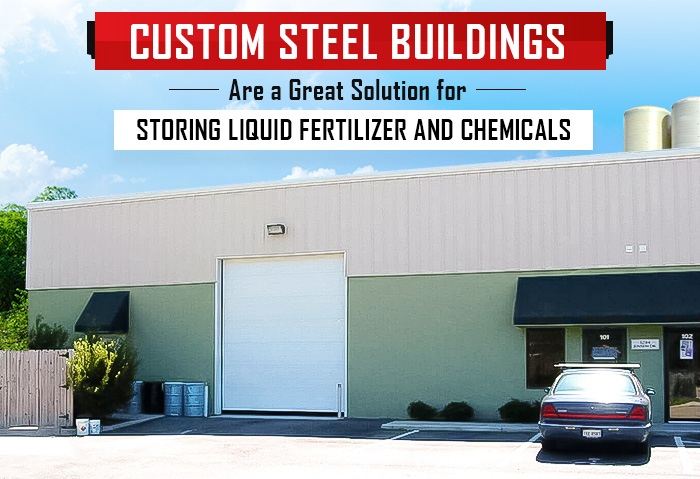 Custom Steel Buildings Are a Great Solution for Storing Liquid Fertilizer and Chemicals
Fertilizer is the true workhorse of American agriculture. More vital than any tractor or farm equipment and as helpful as any farmhand, its plays an integral role in the production of fruit and vegetables we enjoy every day.
During the pandemic, many supply chains worldwide were disrupted, causing shortages that still severely affect farmers today. However, with Covid restrictions and quarantines easing, the fertilizer market is set to expand by nearly 14% in 2022 alone. Key drivers for this market are a growing population and an increase in technological capabilities.
And sitting at the forefront of those advances is the metal building industry. Prefab metal buildings have long been integral to both agricultural sectors and chemical production and storage. But now, with the help of innovation, these structures can offer a wide variety of additional features that have made them one of the most popular choices on the market.
Why the Fertilizer Industry Trusts Custom Metal Buildings
The proper storage of chemicals plays an essential role in many different industries. After all, fertilizer, like many other chemical products, can be extremely dangerous if not correctly stored. From explosive concerns to environmental pollution, understanding how to use, maintain, and house these materials is absolutely necessary.
But what about custom metal buildings make them such a useful tool for chemical storage? Let's dive into the details of what these structures have to offer:
1. Clear Span Interiors
Unlike most conventional structures, metal buildings can be built at enormous sizes with little need for internal support columns. These clear-span structures are a fantastic solution for offering an incredible amount of interior square footage.
2. Fully Customizable
Metal buildings have the added advantage of being fully customizable. From top to bottom, almost every aspect of a prefab structure can be customized or adjusted to fit your needs. The dimensions, footprint, roofing, paneling, and framing are just a few of the facets that can be changed.
3. Superior Ventilation
To safely store fertilizer and certain chemicals, proper ventilation is a necessity. And warehouse metal buildings come with the ability to customize the ventilation to suit your application.
4. Corrosion-Resistance
Another crucial aspect of storing chemicals according to regulations and guidelines is preventing corrosion. For example, corrosion can compromise chemical containers, opening businesses to the risk of fires, explosions, or worse.
5. Moisture Protection
Like corrosion, moisture damage and rust can also compromise vital machinery and containment tanks, possibly resulting in catastrophic consequences. Luckily, the galvanized steel used in prefab metal buildings is resistant to moisture damage and rust.
6. Fire Resistance
Did you know that metal buildings can withstand temperatures up to 1,200 degrees? That makes these structures some of the most suitable options for chemical storage. And while no building is truly fireproof, having a structure that naturally holds up against most fires is invaluable for many businesses.
7. Insulation
With proper insulation, steel buildings can maintain a more even internal temperature and keep excess moisture at bay. Both qualities are essential for safe and effective chemical storage.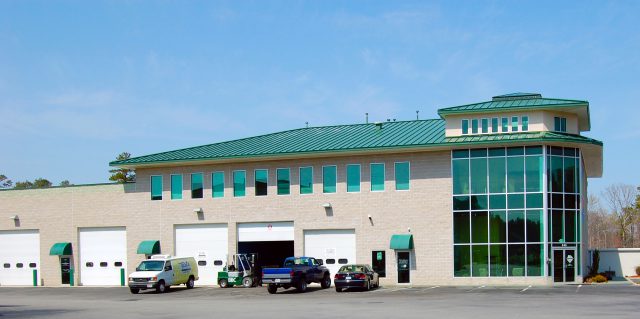 Vital Things to Consider When Investing in a Metal Building
Purchasing any type of structure is a considerable investment. But buying a commercial-sized building that's built to house potential volatile chemicals is an entirely different animal.
Nevertheless, having a comprehensive grasp of your needs is a great start! For everything else, we've put together a small checklist of things you'll need to keep in mind.
1. Find a Suitable Location
Location is everything! Before you purchase a structure, you'll need to find a suitable location. To prevent flooding, you will need to choose an area that rests above any natural water drainage or runoff. The building site will also need to be leveled appropriately and cleared of debris.
As for chemical storage, you'll want to choose a location that's a safe distance from residential homes, with easy access for employees or emergency crews.
2. Zoning Issues and Building Codes
As with any commercial business, your first outward step will be to secure the proper zoning for your property and to ensure that you're following all local building codes. You'll want to work closely with your local building inspectors for this part of the project.
3. Safety
Handling hazardous materials is a serious business. The most critical elements of chemical storage are the safety of your employees, nearby citizens, and the environment. Fertilizers and certain chemical compounds can be volatile and pose a real explosion risk if mishandled. Therefore, you'll need to be trained on HAZMAT safety procedures, and you will need to consult with safety consultants to ensure that you're following all legal guidelines.
4. Sizing
How big will you need your structure to be? Having a comprehensive grasp on how much square footage you'll need will help you make a more educated decision on what size metal building works best. In addition to size, you'll want to plan your building footprint and account for any extra rooms or utilities it will need to contain.
5. Local Weather Patterns
While most of the US has a moderate climate, many regions are home to various potentially hazardous weather patterns. From thunderstorms to flooding, wildfires, tornadoes, and even hurricanes, your building will need to be designed to handle the weather in your area. This is especially important for structures that contain or produce fertilizers and hazardous chemicals.
6. Choose the Right Metal Building Provider
Let's face it. There are a ton of different metal building providers out there. And not all of them are great at their jobs. Therefore, when choosing a steel structure, it's crucial to do the homework and choose a provider with a history of producing quality structures and delivering excellent customer service. By performing this due diligence, you'll significantly streamline your metal building project and eliminate many construction-related headaches.
Safeway Steel is Your Trusted Name for Custom Metal Buildings of All Kinds
Whether it's a metal storage building or an enormous commercial warehouse built for storing fertilizer, Safeway Steel has the expertise to deliver strong, durable structures and low metal building prices.
So, if you've been thinking about building a fertilizer storage facility for your farm or entering into the chemical storage business, we can help! Give us a call today at +1 (800) 818-2245 and let our team of building experts help you design and customize a commercial-grade steel structure for your next project!