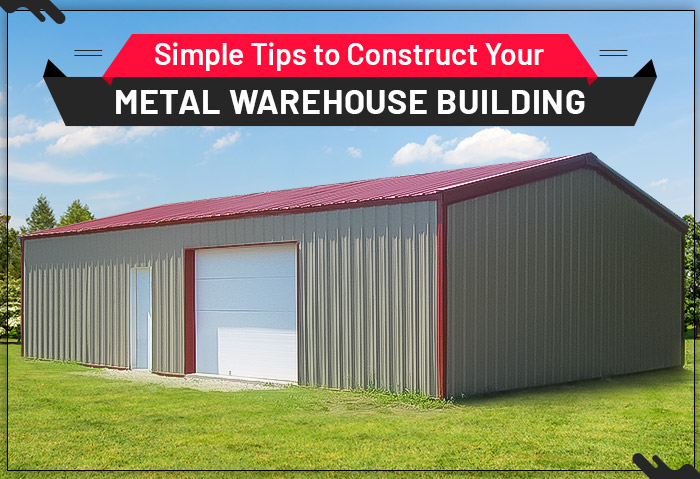 Simple Tips to Construct Your Metal Warehouse Building
Metal Warehouses
Are you planning to construct a warehouse and want some simple tips to get started? Look no further! Building a warehouse, whether it be a metal warehouse, metal workshop, or a traditional warehouse building, can seem daunting. However, with a bit of planning and organization, the process can be made much simpler.
In this blog, we will provide some simple tips for constructing a warehouse to help make your project a success. From choosing the right materials to maximizing your building's efficiency, we've got you covered. So, let's get started!
Design Your Metal Warehouse for Maximum Productivity
Designing your warehouse for efficiency involves optimizing the layout and features of the building to streamline the storage and movement of goods. Here are some key points to consider when designing your warehouse for efficiency:
1. Ensure Adequate Height of Your Metal Warehouse Building
Ensuring that the height of your warehouse is sufficient for your needs is critical as you'll likely be handling large machinery or ample supplies of inventory. As such, you'll want to ensure your building is tall enough to handle it.
2. Select Appropriate Flooring for Metal Warehouse Structure
The flooring of your warehouse plays a crucial role in the efficiency of your operations. Durable, non-slip flooring is essential to prevent accidents and ensure the smooth movement of goods and handling equipment.
3. Consider Placing Multiple Doors in Warehouse Buildings
Multiple doors in your warehouse can improve the flow of goods in and out of the building and allow for better natural ventilation.
4. Select Correct Height for Loading and Unloading Dock
Choosing the correct height for your loading and unloading dock ensures that goods can be easily transferred to and from vehicles, streamlining the movement of goods in and out of your warehouse.
5. Ensure Effective Implementation of Safety Measures
Proper safety measures are essential to prevent accidents and ensure the smooth operation of your warehouse. This may include using safety barriers, clearly marked walkways, and proper lighting and signage. You'll want to work closely with officials to determine the full extent of safety measures your business will require.
By taking into account these factors, you can design your warehouse for optimal storage capacity, efficient workflow, and maximum productivity.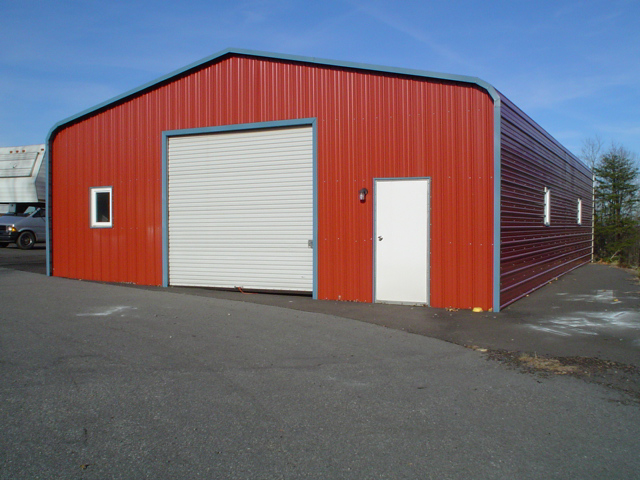 Practical Considerations for Your Metal Warehouse Build Site
There are several practical considerations that you should keep in mind when building your warehouse. These include:
1. Seek Firm and Level Ground
It is vital to ensure that the ground on which your warehouse will be built is firm and level. This will provide a solid foundation for your warehouse and ensure it is structurally sound.
2. Natural Drainage
You should also consider the natural drainage of the area where your warehouse will be located. Proper drainage is essential to prevent water damage to your warehouse and ensure that it remains dry and safe.
3. Ease of Access
Your warehouse should be easily accessible to both employees and delivery vehicles. This may involve building your warehouse near major roadways or ensuring sufficient space for large trucks to maneuver.
4. Access to Utilities
Your warehouse will need access to electricity, water, and possibly natural gas. Make sure you choose a building site near these available utilities. Failure to do so can be costly!
5. Make Room for Possible Future Expansion
Planning for future expansion when building your warehouse is always a good idea. Luckily, steel structures are built with future expansion in mind, making the process of updating your building easy and efficient.
By keeping these practical considerations in mind, you can ensure that your warehouse is strong, conveniently located, and ready to take on anything.
Industries That Benefit from Metal Warehouses
Since metal warehouses are such a cost-effective solution, they've become incredibly popular across many industries. For example, manufacturing companies rely on metal warehouses to store raw materials and finished products, while distribution centers use them to store and ship merchandise.
Retail businesses also benefit from metal warehouses as they provide a secure and organized space for inventory storage. Additionally, agricultural businesses such as farms and ranches can use metal warehouses to store equipment and supplies.
These metal warehouses will continue to be in high demand for many years to come because of their durability, low cost, and versatility.
Call Safeway Steel Today to Design Your Quality Metal Warehouse!
Whether you're searching for a small metal workshop or designing a massive steel structure, Safeway Steel has the skills to get the job done right. We've been a leading provider of metal warehouses, metal warehouse kits, and commercial metal buildings for years, with the knowledge and expertise to help you design and build the perfect warehouse to meet your unique business needs.
It doesn't matter if you need a small metal workshop or a large warehouse building; Safeway Steel has the products and services to make your project a success! Give us a call today at +1 (800) 818-2245 and let our talented team of building experts help you design and customize a metal warehouse for you!