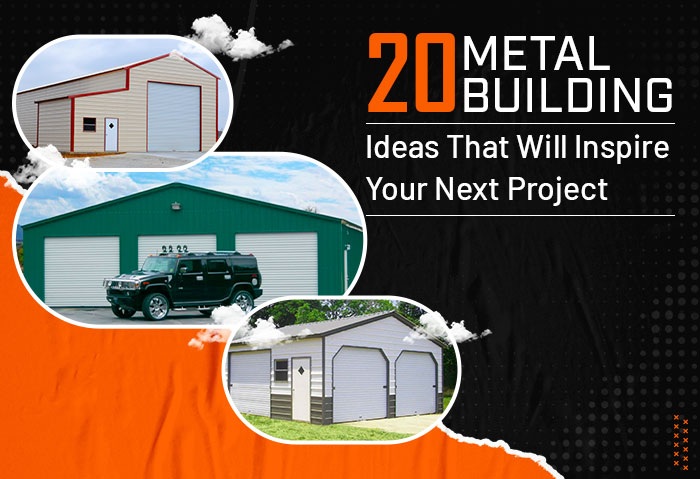 20 Metal Building Ideas That Will Inspire Your Next Project
Custom Metal Buildings: Flexibility in Any Direction
Whether you're looking for that new backyard shed or designing a fully livable home, metal buildings have quickly grown to be one of the most popular– and cost-effective ways to build. They're low-maintenance, incredibly tough, and capable of working in almost any environment.
But, the customizability of steel structures also plays a large part in their popularity. Thanks to their pre-engineered design, these buildings can be added to, accessorized, and custom-tailored to fit any application or setting, from commercial automotive repair to residential homes and beyond.
And if you're thinking about starting your very own metal building project, you've likely done plenty of searching to find the right structure for your needs. But you don't have to! You can build one. In this blog, we'll explore 20 metal building ideas that will inspire your next build and give you some great information that can help ensure yours is a success.
20 Metal Building Ideas That Will Inspire Your Next Project
Custom-engineered metal buildings offer a wide array of possibilities, whether you're thinking about residential, commercial, or agricultural projects. Let's look at just a few clever ways these structures are being used. It might give you a few interesting ideas for your own:
A. Residential Metal Building Ideas
1. Garages
A metal garage offers a spacious shelter for your vehicles and tools. From the family car to lawn equipment, gardening supplies, or valuables, a garage has you covered.
2. Home Offices
Working from home? Create a comfortable and efficient workspace right in your backyard and enjoy the work-from-home life. Or simply give yourself a productive space to work on hobbies and that long-neglected screenplay. It's all up to you!
3. Carports
Shield your vehicles from the elements with an open-sided carport structure. Or enjoy the shade under your new patio cover. The versatility of these structures is endless.
4. Garden Storage Sheds
Keep your gardening tools, supplies, and seasonal items organized and protected during the summer and safe in the off-season. Or create a nursery or greenhouse and take your green thumb to the next level.
5. Barns
Combine the charm of a classic barn with modern metal building durability for livestock, equipment, or storage. You'll be able to house food supplies, tractors, animals, and much more.
6. Home Gyms
Transform a metal building into your private workout haven, and stop paying for pesky membership fees.
7. Relaxing Retreat
Design a cozy cabin-style retreat where you can escape the hustle and bustle, kick back, and watch the game on the big screen.
8. Home Theaters
Create the ultimate entertainment space for movie nights and immersive gaming. Your kids will thank you!
9. Utility Room
A dedicated utility space can house your laundry, water heater, and provide extra storage for things around the house.
B. Commercial Metal Building Ideas
10. Retail Shop
Set up a stylish and versatile space for your retail business, with all the room you need to house inventory, displays, and retail items.
11. Warehouses
Optimize storage and logistics with a spacious metal warehouse. These buildings offer tons of uninterrupted square footage, making them perfect for large-scale manufacturing, warehousing, and factory projects.
12. Auto Shops
A metal building can house your automotive repair shop efficiently, giving you space for repair bays, waiting areas, and break rooms. No matter the type of auto repairs you make, you'll have a cost-effective, flexible space to operate.
13. Office Rental Spaces
Construct individual office units for rental to businesses in need of workspace. These units can be customized and finished to make warm, insulated, fully livable spaces.
14. Self-Storage Units
Multi-unit metal structures are a fantastic way to earn passive income and enjoy the fruits of business ownership. And with custom metal buildings, you can create multiple units, install doors, and customize them to fit your business needs.
C. Recreational Metal Building Ideas
15. Pet-Friendly Haven
Create a comfortable space for your four-legged friends and give them the room to roam. Whether you're an equine enthusiast or just a fan of dogs and pets, these structures can certainly keep up.
16. Hobby Workshop
Dedicate your metal building to crafting, woodworking, or any hobby you're passionate about, and enjoy the relaxation of making something new.
17. Art Gallery
Showcase your artwork or host exhibitions in a versatile gallery space. Or record that next album. There are no limits when you're working with the power of steel.
18. Aircraft Hangar
Protect your planes, helicopters, or aviation equipment with a durable metal hangar that will be there for your needs in any environment.
19. Outdoor Lounge Area
Design an open-air, shaded space for relaxation and gatherings. Or craft a structure for events, meetings, and parking.
20. Entertainment Space
Turn your metal building into the ultimate party venue, complete with a bar and game room. Your only limits are your imagination!
Safeway Keeps It Real When It Comes to Steel Buildings
Whether you're searching for smaller, cost-effective steel buildings for sale or designing a state-of-the-art commercial facility, the folks at Safeway Steel have your back. We engineer our structures with advanced techniques, high-quality steel, and a dedication to craftsmanship that shows in every facet of our buildings.
We also back our structures with industry-leading warranties and workmanship guarantees, so you know you're not just getting what you pay for– you're getting a building that's in it for the long haul.
So, what are you waiting for? Give Safeway Steel a call today at +1 (800) 818-2245, and let our team of building experts help you craft the structure you've been waiting for. From start to finish, we'll be there to deliver lifelong structural solutions.