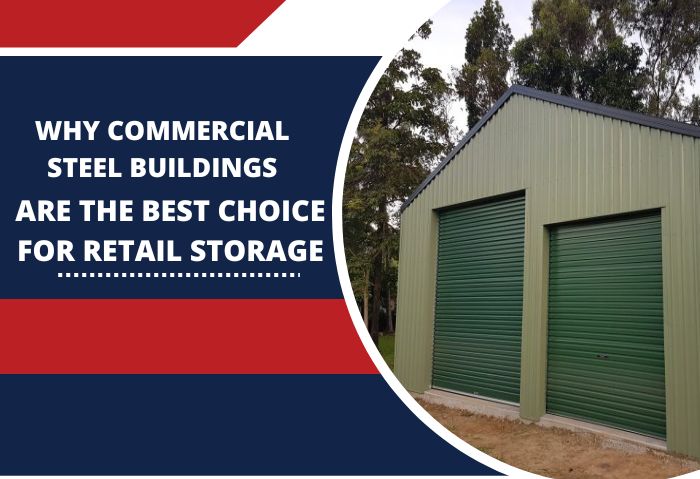 Why Commercial Steel Buildings Are the Best Choice for Retail Storage
Commercial Steel Buildings
To operate in the modern age, businesses need more than competitive prices, a sharp marketing angle, and a good product or service. You need the right infrastructure. And thanks to advances in modern engineering, it's never been easier to find the right building for the job.
When it comes to commercial infrastructure, it's hard to beat the advantages steel buildings bring to the table. Steel is incredibly strong, versatile, and far more affordable than wood or concrete. It also lasts far longer than other materials and require less maintenance. For these reasons alone, metal buildings are now the go-to solution for a wide range of commercial applications. In fact, over 80% of all new commercial construction uses steel!
So, if you're a business owner or thinking of forming a new company, this blog is for you! Below, we'll explore these adaptable buildings in greater detail and show you why commercial steel buildings are the best choice for retail storage.
What Are Commercial Metal Buildings?
Simply put, a commercial structure is any building used for commercial purposes. This may be a retail storefront, a manufacturing facility, or an automotive repair shop. And thanks to their versatility, steel buildings can be any of the above and more.
Due to the sheer square footage they provide, metal storage buildings are regularly used for commercial purposes, such as inventory storage, manufacturing spaces, and warehousing. This makes them perfect for larger-scale ventures and situations where ample space is needed.
Reasons to Choose a Commercial Steel Building for Your Retail Storage Needs
As you can imagine, there are many reasons that commercial steel buildings can improve your business operations. But let's break it down into the details.
1. Unmatched Durability
Metal buildings are known for their durability and strength. They're designed to withstand harsh weather conditions, including strong winds, heavy snowfall, and earthquakes. And unlike traditional wood-frame structures, metal buildings do not rot, warp, or crack over time.
2. Fire Resistant
Metal buildings are non-combustible, making them an excellent choice for retail storage needs. These structures are designed to withstand temperatures as high as 1,200 degrees Fahrenheit, making them a safer option than wood-frame structures in the event of a fire.
3. Energy Efficiency
Commercial metal buildings are energy-efficient, which can help you save on energy costs. These structures have a high R-value, indicating their insulating ability against heat transfer. With proper insulation, this R-value helps keep the interior of metal buildings cool in the summer and warm in the winter.
4. Flexibility
Metal buildings are incredibly flexible in terms of design and layout. These structures can be customized to suit your specific retail storage needs, whether you require a single large space or multiple smaller spaces. Additionally, metal buildings can be expanded or reconfigured as your business grows and changes.
5. Versatility
Metal buildings are versatile and can be used for a variety of purposes, including retail storage, office space, manufacturing, and more. Their flexible design and layout make them a popular choice for businesses looking for a multi-use space.
6. Environmentally Friendly
Metal buildings are environmentally friendly, as they are made from recyclable materials. Additionally, the energy efficiency of these structures means that they require less energy to heat and cool, reducing their environmental impact.
7. Cost-Effective
Commercial metal buildings are cost-effective, both in terms of construction and maintenance costs. These structures require less time and labor than traditional wood-frame buildings and less maintenance over their lifespan, saving you money on repairs and upkeep.
8. Appearance
Modern metal buildings are aesthetically pleasing and can be designed to fit in with your existing retail space. These structures can be finished with a variety of materials, including brick, stucco, and wood, to create a customized look.
9. Open Layout
Metal buildings have an open layout, providing more usable space than traditional wood-frame structures. This open space is perfect for retail storage, allowing you to store large items and equipment efficiently.
10. Faster Construction
Metal buildings can be constructed faster compared to traditional wood-frame buildings. This is because the components of a metal building are pre-engineered and pre-fabricated, reducing the time required for on-site construction.
Can I Custom Design My Commercial Metal Building?
One of the most significant benefits metal buildings have to offer is customizability. When designing a metal building, you'll work with experienced professionals to create a customized plan that meets your business's needs. This includes choosing the size, shape, and layout of your building and selecting the materials, finishes, and colors.
You can also incorporate custom features like doors, windows, and insulation to create a space tailored to your brand. The result is a building that is perfectly suited to your needs, providing you with the ideal storage solution for your business.
Ready to Get Down to Business? Order Your Commercial Steel Building from Safeway Steel Today!
From steel storage buildings to retail infrastructure, Safeway Steel is a proud provider of commercial metal buildings, with years of experience delivering top-quality products that stand the test of time. Our structures are the perfect choice for businesses looking to supercharge their productivity and profitability, thanks to their affordable prices, quick construction, and minimal maintenance needs.
Whether you need a steel storage building for your retail, manufacturing, or industrial business, we have you covered at a price that won't break your budget. We also pride ourselves on our excellent customer service and craftsmanship and work hard to ensure every project is completed to our customers' satisfaction.
So, if you're ready to invest in infrastructure that will keep your business operating efficiently, call Safeway Steel at +1 (800) 818-2245. Our building specialists are ready to walk you through the design and customization process from beginning to end so that you get the right building for the job every time.